Sr. Copywriter & Content Creator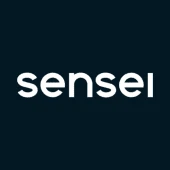 Sensei
Marketing & Communications, Design
Lisbon, Portugal
Posted on Tuesday, October 10, 2023
Greetings, future Sensei 👋
Are you ready to embark on a hilarious and enlightening journey into the world of retail revolution? Hold onto your hakama, because Sensei is here to develop autonomous stores and sprinkle digital transformation magic all over the retail sector!


Why join Sensei, you ask?
Oh, I'm glad you asked! We're on a mission to make shopping a breeze for millions of shoppers worldwide. Imagine a retail experience so smooth, it's like riding a ninja skateboard through a cloud! We believe in automation, efficiency, and, most importantly, creating the best shopping experience ever!
Sensei is a vibrant team of over 60 talented ninjas based in Portugal, Brazil and Spain! We're firm believers that happy people make better ninjas, which is why we encourage everyone to do the things they love the most (besides meditation, of course)!

How Can you Help?
As a Brand Voice Ninja-Copywriter you'll be the mastermind behind our brand's communication strategy. Your key responsibilities will include the development of:

Your key responsibilities will include the development of:
Sensei commercial presentations, product brochures, and social network content, crafting each with precision and impact
Client success stories and video scripts, weaving narratives that inspire and captivate
Events presentations and the associated Storytelling Strategy, immersing our audience in a journey of engagement
Campaigns to attract new clients or investors, employing strategies that strike with the force of a ninja
Ghostwriting content to help our experts present their opinions and products on media channels, ensuring their message resonates with authority
Employer Branding Assets in partnership with our People Masters, fostering our company brand

🎯To thrive in this role, you must have:
Bachelor's degree in Marketing, Advertising, Communications, Journalism, or any related field
Background in content management and delivery while fiercely adhering to brand awareness principles
Proven experience managing a large and consistently shifting workload, demonstrating the agility of a skilled martial artist
Excellent presentation skills, commanding attention and leaving a lasting impression
Demonstrated creativity and effective communication skills, delivering messages with the precision of a martial arts master
Strong project/time management and multitasking abilities, navigating tasks with the agility of a Master
4 to 7 years of previous experience in a Brand or Advertising Agency as a copywriter, establishing a brand voice with the impact
🌟Will be a plus if you have:
Journalism Experience, with the eloquence of a seasoned scribe.
Experience in articles writing, crafting narratives that resonate and inspire.
B2B Experience, showcasing the ability to communicate to our targeted clients


📅After 1 year of journey, your success will shine if you:
Are our brand voice keeper, ensuring every member of the organization speaks in harmony with our brand's essence
Define all storytelling presentations, leaving an indelible mark on all Sensei materials
Create a strong brand in collaboration with the brand designer, a brand recognized by all our targets (a recognized prize is the dream!)

🏆What's in it for you:
A competitive compensation package – a reward worthy of a ninja master!
Our annual flex benefits package is like a magical genie granting your desires – gym time, a professional coach, or even part of that MBA dream – the choice is yours!
Fierce Health Insurance
We offer the ultimate work blend – the hybrid or full remote model! Be it the cozy remote caves or the bustling office battlegrounds, you have the power to choose!
You'll enjoy a whole 24 days of holiday allowance to recharge your warrior spirit and embark on epic adventures!
Parents, we've got your back too! With paid parental leave, you won't have to choose between family and work – because balance is the key to true harmony!


And hey, a friendly reminder, at Sensei, we all speak the language of ninjas – English! So sharpen those linguistic shurikens and show us your skills!
Remember, every warrior is welcome in our dojo – regardless of backgrounds, flags, or beliefs! So don't hesitate to join our diverse tribe – your uniqueness is your superpower! 🌈💪
Join Sensei, and let's embark on this thrilling adventure of a lifetime! 🚀
‍